Caribe Girls, Cuban female salsa
Submitted by: admin

03 / 15 / 2010
---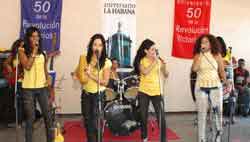 Female salsa bands had a boost during the 1990's with the Boom of Cuban Salsa, as it happened during the 19930's due to economic problems.
During the 1990's many female singers and instrument players abandoned their violins and took metals and drums. They substituted the preludes by Chopin, scores by Bach and Palestrina for Cuban tumbaos and montunos by Peruchin, Lili Martinez and Ruben Gonzalez.

We may talk about Anacaona, Las Chicas del Loco, Fuego de seda, Son Damas and Caribe Girls that began in 2000, directed by Thiving Guerra, a very beautiful Indian mulata.

Thiving studied Choral Direction in the National Art School (ENA in Spanish), in 1991. After she graduated she became part of the Son Damas orchestra.
The first album recorded by the Caribbean girls was Salseando en la calle (2000), afterwards came Rica timba (2001), Contra viento y marea (2003), Mi sueñoo (2010). This last one includes the production by Joaquí Betancourt with the EGREM label.
The album includes thirteen themes, some of them already famous through the radio and TV: El amigo mío, El caracolito, Yo te agradezco, Ríe y llora.

Cariben Girls has performed in many international festivals: Latino Taste (in Copenhagen), Hot Latin Festival (in Zurich), World Music Festival, Arts. Music, Latin Festival from Nokonoshima (Salsa Island) and Cosmopolitan (Oslo).

In some of the International Encounters of Mayarí Son Bands, Holguin, Caribe Girls has shone among the young public.
I have personally had the opportunity to enjoy their performances in that son land. The musical fundament of this band is its Cuban son, in their musical carpets there is also guarachas, rumbas, cumbis, meringue and other Caribbean rhythms in order to rise their Caribbean name.

We also have to talk about a very attractive and suggestive stage projection; very carefully done for the great national and international public.

They have recently undertaken an artistic tour around Merida and Chiapas, Mexico and they were greatly accepted. Very good voices have passed through their staff, some of them coming from NG La Banda.

Caribe Girls is still developing in order to reach success in this new work stage, after celebrating these first ten years of salsa.

By: Rafael Lam
Source: Cubarte
---
Related News
---