When you Leave Havana's Vedado
Submitted by: admin

03 / 15 / 2010
---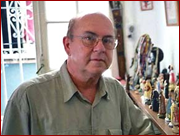 And I did depart. I traveled to the eastern cities of Las Tunas and Puerto Padre on a working visit to receive the Replica of the Pen with which Juan Cristóbal Nápoles Fajardo (El Cucalambe) -who by the way used the most musical and sonorous pseudonym of all Cuban literature- wrote his famous ten-syllable verses.

The Cucalambé was an Afro-Cuban dance of Bantu origin, well known in the island's countryside in the 19th century.
It was there in Las Tunas where the conspiracy to free Cuba from the Spanish colonial yoke was conceived, and also where the house of Vicente García is located the heroic and polemic combatant of the 1868 wars who, for representing a great danger to the metropolis, was ordered to be killed with ground glass in his favorite dish, okra, also of African origin.

I received the beautiful ivory pen with which I'm symbolically writing this note. The UNEAC executive in the province, headed by its president Carlos Tamayo, after the official ceremony and intensive exchanges with the members of our organization in
the local office, took me to two model community projects: Callejón de la Ceiba and La Familia, where two books of mine were being presented -one of them being Akekú and the Hutia, for children-, and also by other Cuban authors. It was a memorable occasion.

Words are not enough to thank the two places, on my behalf and on behalf of all Cuban writers and artists, for the warm reception I was given and the experiences I lived through with modest people from the Las Tunas neighborhoods, who develop
their craftwork and carry out artistic activities enriching everyday life, which are antidotes against lax attitudes, banality and some vulgar rhythms now in fashion, the names of which I don't want to pass my lips.

It's admirable how UNEAC, the Center for Community Exchange and Reference-Initiative (CIERIC), and popular will, have managed to call children, housewives, retirees and lovers of all expressions of art to get involved in such noble and necessary endeavour to eradicate futile idleness and develop the artistic potentialities existing in every human being.

In Puerto Padre I was able to browse, not without astonishment, the fantastic office of UNEAC's Municipal Committee, where we also met with a large number of members of our organization at the Rívoli Hall, and where we handed out several membership cards to new members.
There, I listened to poems by Renael González, Frank Castell and other notable poets from the beautiful marine city, and enjoy the performance of a saxophone, clarinet and percussion group directed by Ernesto Díaz.

Immediately after, at Aguada de los Milagros, next to a gorgeous garden looking out to the sea, I shared texts with other writers and visited a local painting exhibition, the pieces of which ranged from landscapes from Las Tunas by Humberto
Hernández to more adventurous proposals of contemporary fine arts. Where does all this talent come from? Out of nowhere, by the grace of Providence? Of course not, it comes out of vocational art schools and from the complete artistic teaching system
of our country, but also from collective, natural and expansive genius.

Then, the great surprise: a small fishing community in Boquerón, where everybody is an improviser, where everybody sings, and where even paving stones from the coast improvise seguidillas and tunes that are kept forever in the hearts of visitors.
It's yet another UNEAC-CIERIC community project, thanks to which the town recovered from the damage of two consecutive hurricanes which made roofs, doors and windows fly through the air.
There, I tried pickled freshwater crab and the delicious country mousse made of pumpkin and meringue.

You have to get out of Vedado to see this with the eyes of someone who really wants to see and also have a break from so much daily paperwork that is not always encouraging. I wanted to bear testimony to all this with this note of encouragement for all those contributing to the task of expanding UNEAC to the country's remotest spots, where I want to share my fate.
Yes, we have to leave the Vedado neighborhood every now and then.

By: Miguel Barnet who is the President of the Cuban Union of Writers and Artists (UNEAC).

Source: www.granma.co.cu
---
Related News
---