Enjoy a taste of Havana Sunday in Port Hope
Submitted by: admin

03 / 13 / 2010
---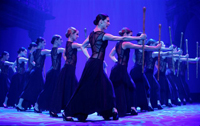 Port Hope.- The next concert in the Port Hope Friends of Music 35th Anniversary Season is March 14, with Havana's Lizt Alfonso Dance Cuba, at the Cameco Capitol Arts Centre.

With their Spanish and Afro-Cuban rhythms, and a fusion of ballet, flamenco and contemporary dance, the New York Times says "Dance Cuba is amazing ... striking ... dazzling".

Lizt Alfonso Dance Cuba is an expression of the mixture that characterizes Cuban culture, with its abundant rhythms, movements and colours. Made up only of women, the troupe's shows mix elements of flamenco, ballet and dance with Spanish and Afro-Cuban rhythms.
The company includes its own music group which composes the show's original soundtrack and accompanies it in each live performance.

The ensemble was formed by its director and choreographer Lizt Alfonso in October 1991. A year later, the troupe became an independent company named Lizt Alfonso Dance Cuba.

In 2000, at the request of the National Performing Arts Council, it was turned into a resident ensemble at Havana's Grand Theater.

Lizt Alfonso Dance Cuba has been acclaimed on the island and other countries of the world, such as the United States, Canada, Spain, France, New Zealand, Germany, Holland, Egypt and others.

Tickets are $39, $15 for students, at the door for the 4 p.m. Sunday, March 14 performance at the Cameco Capitol Arts Centre in Port Hope.

Video is available at www.stationbleue.com/artistes. e/alfonsodancecuba_li. php .

Source: Northumberland Today

---
Related News
---