Young Cubans to Visit Fidel Birthplace Museum in Biran
Submitted by: admin

03 / 12 / 2010
---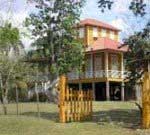 The "From the Aconcagua to the Turquino Peak" project, made up of Cuban journalist and students from Havana's Institute of International Relations will visit the birthplace of the historic leader of the Cuban Revolution, Fidel Castro, before starting a tour of the iconic Sierra Maestra in the east part of the island.
This project, which also includes relatives of the five Cuban prisoners in U.S. for fighting terrorism, departed from the city of Holguin, due to Biran, the birthplace of Fidel and Cuban President Raúl Castro.
Aili Labañino, daughter of Ramon Labañino,one of the Cuban Five as they are known internationally, said that there is ever increasing solidarity with these patriots in every corner of the planet, with prominence for young people.
In Cuba, this year of the Youth Communist League  9th Congress, the new generations take initiatives like this, to ascend the Turquino Peak that with 1974 meters ( 6 514 feet) stands as the highest mountain in Cuba, in solidarity with the anti-terrorist heroes, she said.
Amaury Torno, president of the Holguin delegation of the Cuban Friendship Institute, thanked the gesture of visiting the north-eastern province and specifically the town of Biran, a must reference in the history of Cuba.
Students and journalists in Cuba, organized the project "From Turquino Aconcagua, as a continuation of the recent show of solidarity with the Five, made by three young Argentineans who climbed in January the highest peak in the Americas to demand the immediate freedom of these patriots.
The project includes a tour of the area of military operations of Comandante Ernesto Che Guevara in the Sierra Maestra during the liberation war (1956-1958), culminating in the Turquino.
Its organizers commented that this action for the case of Gerardo Hernandez, Rene Gonzalez, Ramon Labanino, Antonio Guerrero and Fernando Gonzalez, joins the international demands for their immediate release.
Source: ACN
---
Related News
---