Havana´s Casa de las Americas Begins Cultural Project in Solidarity with Haiti
Submitted by: admin

03 / 12 / 2010
---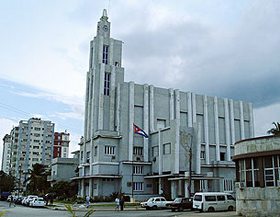 The Havana-based Casa de las Americas began a project called "Ayiti cheri" in solidarity with the people of Haiti that is suffering the consequences of a devastating earthquake that hit Port-au-Prince last January.

The Havana-based Casa de las Americas started project "Ayiti Cheri".

Roberto Fernandez Retamar, president of the cultural institution, said that they have to be grateful and loyal to the wonderful Haitian people, who carried out the first social revolution of the continent over 200 years ago.

For her part, Yolanda Wood, director of the Center for Caribbean Studies, announced that the program of events will begin next Tuesday, March 16, with a ceremony at the Che Guevara Hall.

On this occasion, participants will for the first time listen to the "Elegy for Jacques Roumain", in the voice of late Cuban National Poet Nicolas Guillen.
They will also be able to listen to late Haitian actress, singer and writer Martha Jean
Claude, who embodied the close fraternal links between Cuba and Haiti.
  
Renowned intellectuals, including winners of the National Literature Prize, will dedicate poems or special messages to the Haitian culture and history while young artists will sing Haitian traditional songs in Creole.

The project, named "Ayiti cheri" after a song in Creole, will also bring together several institutions such as the Regional Office of UNESCO in Havana as well as the Nicolas Guillen and Martha Jean Claude foundations.

Source: ACN
---
Related News
---