Leo Brouwer, Prize Tomas Luis de Victoria
Submitted by: admin

03 / 09 / 2010
---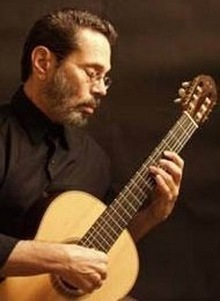 One of the greatest awards in the world of music, inside the Ibero-American environment, the 10th Awards SGAE Tomas Luis de Victoria, has been granted to the Cuban composer and interpreter Leo Brouwer whose transcendent work conquered among the 53 finalists from 16 nations of the community that includes the countries of Latin America, Spain, and Portugal.
The international jury was integrated by professors of musicology at the University of Oviedo, Ramon Sobrino; the critic and musicographer, Jose Luis Tellez; the director of the Center of Musical Documentation of Andalusia, Reynaldo Fernandez; the musicology professor of the Autonomous National University of Mexico, Consuelo Carredano, and the Cuban musicologist Victoria Eli, professor of the University Of Alcala de Henares, Madrid who underlined, in the ceremony, the career of Brouwer as "composer, guitarist, orchestra director, and professor; his brilliant domain of multiple techniques and genres that define him as integral musician and his contribution to the repertoire and technique of the guitar based on the synthesis between the autochthonous dance and the new aesthetic trends of nowadays that the Ibero-American music has projected to a universal dimension".
Previously, only another important personality of the Cuban music, the missing composer Harold Gramatges had received it, in 1996, the important award has also been granted to the Catalan Xavier Montsalvatge (1998), the Peruvian Celso Garrido-Lecca (2000), the Venezuelan Alfredo del Monaco (2002), the Catalan Joan Guinjoan (2004), the Brazilian Marlos Nobre (2005), the Aragonese Anton Garcia Abril (2006), the Argentinean Gerardo Gandini (2008), and from Bilbao Luis de Pablo (2009).
At his 71 years old and with an extensive and varied work, Leo Brouwer who carried out music studies in Cuba, as well as in the Juilliard School of New York and in the University of Hartford in United States, also receives this prize which is, a recognition to an artistic mastery that has spread not only in the musical media but it has rather contributed to the dialogue of arts, as it highlights his important contribution to the seventh art, in Cuba which has earned him the National Prize of Cinema, granted by the Cuban Institute of Cinematographic Art and Industry, ICAIC.
Source: Cubasi
---
Related News
---