Cuba's 2011 International Book Fair will be dedicated to ALBA
Submitted by: admin

03 / 09 / 2010
---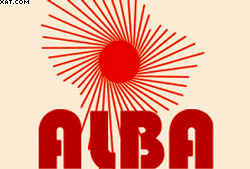 The 20th edition of Havana's International Book Fair will be dedicated in 2011 to the countries making up the Bolivarian Alliance for the Americas (ALBA),and to intellectuals Fernando Martinez and Jaime Sarusky.  
On Sunday, during the last day of the 19th edition of the Fair, Cuban Culture Minister Abel Prieto announced that the next edition will also pay tribute to the bicentennial of the first Latin American independence, starting with the great Haitian Revolution and the declaration of the abolition of slavery.
Once more, the International Book Fair proved to be the cultural event held with the largest amount of participants on the island –over two million 600 thousand Cubans on this occasion.
Prieto expressed that the Cuban Book Fair is an example of the fact that a great cultural event with an incredible number of participants can be carried out without making any concessions in terms of rigor and quality.
Zuleyka Romay, president of the Cuban Book Institute, pointed out that children,youngsters, families and students had an outstanding participation in this Fair, dedicated to intellectuals Maria del Carmen Barcia and Reynaldo Gonzalez.
The literary fiesta in Santiago de Cuba, held in all of the island's provinces since February 12, was closed with the presence of outstanding personalities from Cuban culture.
Lyricism and music were part of the closing ceremony of the meeting in this city, that took place in front of the monument dedicated to poet Jose Maria Heredia, where the event that was described by writer Miguel Barnet, president of the Cuban Union of Writers and Artists, as the most important in the field of culture held on the island, because, in his words, it puts writers in contact with readers, by way of which literature is completed.
Works by the authors to whom the event was dedicated were presented at the Mayor General Antonio Maceo Revolution Square during the last day of the Fair.
The Cuban National Association of Historians presented Doctor Barcia with the Arturo Duque de Estrada Prize in the category Dedication to Historical Sciences, for her work in favor of the research and teaching of this discipline.
The books Encuentro con la verdad, by Commander of the Revolution Guillermo Garcia, and Imperio del terror, by Alejandro Castro, of great value from the points of view of historiography and culture, were launched on the occasion.
With the Book Festival in the Mountains, the event will run until April 27.  
Source: ACN
---
Related News
---