Avilanian Jumper for Third Prize in Indoor World Championship
Submitted by: admin

03 / 08 / 2010
---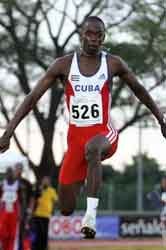 Yoandris Betanzos, the Avilanian triple jumper, will be one of the 13 athletes representing Cuba in the 2010 IAAF World Indoor Championships in Athletics to be held between 12 and 14 March at the ASPIRE Dome in Doha, Qatar, where Betanzos will aim at attaining his third medal in this kind of event.
The winner of two bronze medals in previous world indoor competitions, Betanzos is third on the triple jump world list.
On his last attempt, at the 2004 world meeting, the Avilanian athlete recorded 17.36 m to end third, which place he kept two years later in Moscow when he increased his personal record to 17.42 m.
The 17, 30 m attained by Betanzos last February 20 in Birmingham, Great Briatain, shows the good shape the Avilanian jumper is.
Betanzos will join Arnie David Giralt, who won a silver medal at the last meeting held in Valencia, España, in March 2008.
Other athletes on the island, who are positioned among the best in their respective disciplines, are also aspiring to the first posts.
Javier Sotomayor, in charge of the training of the team in Europe, made public the national list, headed by Dayron Robles, world record holder and Olympic champion of the 100 m hurdles, who will take part in the 60 m race.
On the list is also Yargelis Savigne, who has held the highest position for two years in triple jump, as well as her fellow athlete Mabel Gay, the hurdler Anay Tejeda, the shot put thrower Misleydis González, jumper Wilfredo Martínez and heptathlon athlete Leonel Suárez, Cuba's first representative in indoor world competitions.
With less possibilities but also on the list are the speed runners David Lescay (60 m) and William Collazo (400 m), besides Dayron Capetillo and Mailín Vargas, the shot put thrower.
Regarding the number of members, this is the third Cuban delegation to indoor world championships since the rehersal held in Paris in 1985.
In Budapesr 1989 and Toronto 1993 the Cubans attended with 14 and 17 athletes respectively, while in Seville 1991 the number of participants equaled that of the delegation attending the Doha, Qata event.  
Source: www.invasor.cu/
---
Related News
---