Bayamo, land of remembrances
Submitted by: admin

03 / 06 / 2010
---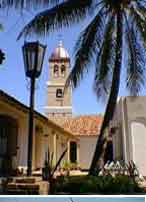 San Salvador de Bayamo was the second town founded by Diego Velazquez in 1513, amid the fertile valley of Cauto River, very close to Sierra Maestra legendary mountains.
It followed in time to the island's capital in 1513, Nuestra Señora de la Asuncion de Baracoa, in the northeastern region of the country. By then, the colonizer continued his advance through the vegetation of our tropic and founded five others towns.
The city of Bayamo was built near the legendary Aboriginal Bayam chieftainship, adjacent to a river of the same name.
While it is true that the first seven villages became charming and relevant towns at different times, Bayamo is very special to Cubans.
It was the capital of the first Republic in Arms, the homeland of the Founding Father Carlos Manuel de Céspedes, initiator in 1868 of the independence struggle against the Spanish colonialism and where the national anthem was created.
In the 1950s, the town gave a decisive contribution to the fighting against Dictator Fulgencio Batista, overthrown by the rebel army led by Fidel Castro in 1959.
Among the historical events, it highlights the burning of the city undertaken by its own people on January 12th, 1869 to prevent the Spanish army from recapturing the city. It was then a prosperous city with a rich cultural and revolutionary life, but its citizens preferred to lose everything and reduced the town into ashes, rather than surrender.
"I have from Bayamo a natural and intrepid soul," wrote the national hero José Martí, in the 19th century. It is a deep and accurate phrase, revealing the essence of that land.
Luz Vazquez's window still remains open at night for visitors. The beautiful figure inspiring the song La Bayamesa can be seen here with a little imagination, first sung here by her heartbroken boyfriend on March 27th, 1851.
One of the coauthors of the beautiful song was the young Carlos Manuel de Céspedes, along with the poet Manuel Fornaris, both friends of the troubled lover Francisco del Castillo, determined to obtain the pardon of the young woman.
These young people, including Luz Vazquez, had relevant participation in the struggle for the independence.
If you travel to Bayamo, you must visit its historical center, which includes the house Carlos Manuel de Céspedes was born, now a museum with a magnificent colonial atmosphere, the Square of the National Anthem and Bayamo's Cathedral. Nearby, in the heart of the city, the Revolution Square is located.
Besides libertarian battles and pure traditions, there is also a modern city, beautiful and strong.
Source: Cubasi
---
Related News
---