Farming sector develops in eastern Cuba
Submitted by: admin

03 / 02 / 2010
---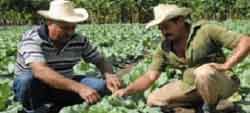 Nearly ten agricultural units in Cauto Cristo municipality, Granma province, revitalize thanks to the endeavor of the region's government structures and a collaboration project between Cuba and Argentina.
The project implements the renovation of nine credit and services cooperatives and agricultural production in this region, in order to lessen the great damages caused by Hurricane Ike a year and half ago.
These actions mean a favorable impact in the living and working conditions of the local farmers; it includes the installation of pumping systems and stations, conditions for the grouping of cattle, the building of several kilometers of water lines with concrete flagstones and the clearing of sickle bush and other weeds in 12 farms.
This plan also includes the purchase of trucks and tractors, motorization of vehicles, change of tires and accessories and other actions.
The project allows to preserve the achievements of Cauto Cristo region, among them the self-supplying of milk since 1997 and the promising situation of agriculture in general: the fulfillment of plans, consolidation of plantings and productions and the commercialization towards Bayamo and other territories.  
Source: www.lademajagua.co.cu/
---
Related News
---