Nat King Cole in Tropicana
Submitted by: admin

03 / 01 / 2010
---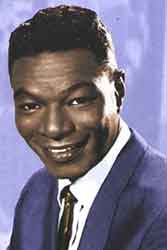 Tropicana cabaret reached its 70th anniversary and now we reach the 45th years after the death of the great star of song Nat King Cole, one of the artists who gave fame to the prestigious cabaret.  

Nat performed in Tropicana three times, from 1956-58, around that time he was the best paid figure and more famous who visited the famous Havanan cabaret.
 
FIRST VISIT

The first time he visited the cabaret was on the first week of March, accompanied by: his wife, daughter Natalie, his barber, the audio, and light headsman and some of the accompanying musicians (bass, electric guitar, and drums), to make sure the tempos in the songs.

On his arrival he asked a journalist for his lightweight jacket (guayabera) and a pair of maracas; he wanted to land in the Cuban style. The welcoming was tremendous, with carpets of flowers, "mojitos" (Creole drink from La Bodeguita del Medio) and
the all-pervading Cuban music.

There was great expectation in Cuba from end to end for the singer's visit. "To know Havana was one of my dreams. Now that I know it, just imagine… Havana is very beautiful and it's got a lot of fame, it's the cradle of music and show."

Cole's invitation to Tropicana was due to an existent competition with the Sans Soucí and Montmartre cabarets that had invited international stars like Edith Piaf.  

The orchestra that accompanied Cole was that of Tropicana, enhanced with symphonic violins, and directed by Armando Romeu.

In his first night of presentation there was great uproar, dimmed indirect lights were placed, carpets to muffle the murmur of the cabaret and to emphasize the intimacy environment, the singer was called "the intimate."  

Miguel Angel Blanco ("Buempa"), introduced him: "Ladies and gentlemen, the Cabaret Tropicana delights in presenting the unique: Nat King Cole!"Nat is already on the stage. General ovation" from the great public that was standing. He dressed an elegant tuxedo of fantasy of spotless cut; though during his performance he changes clothes several times.
The singer shows leisurely scenic movements, the piano is barely listened in the background. "It was hard to play higher or lower - explains Romeu - I don't know if it was a trick of him. Let's not forget that he was a musician of proven fine ear, he knew how to enter at the exact tone without a mistake".

The crooner sang about 16 songs and played at the piano, it's known that he was one of the great jazz pianists of the world.
 
SECOND VISIT

In his second visit he checks in on February 24, 1957; he visits the discotheque of Fuste in Amistad and Neptuno Streets. He visited La Bodeguita del Medio, where he left a picture for history. He dined in his second farewell in a restaurant opposite Victor Hugo Park, located on 19 and H Streets.  

THIRD VISIT

In the third visit to Tropicana he passed by the record factory PANART, it was during a cocktail party in Hollywood where the president of the record house PANART Ramon Sabat talked Nat into recording an album in Spanish, in San Miguel studios, in Center Havana where 40 years later would be recorded the Buena Vista Social Club album.

It was the first time Nat recorded outside the United States, this time for a branch of the Capitol, the PANART of Cuba. He recorded a LP of twelve songs where he included Cuban songs like Quizas, quizas, quizas, of Osvaldo Farres, El Bodeguero of Richard Egues, Delirio of Cesar Portillo de la Luz, in instrumental, because he was unable to master the phonetics of the song. He was accompanied by the Orchestra of Tropicana directed by Armando Romeu.  

In total Nat recorded three albums in Spanish: A mis amigos (To my friends), in Cuba 1958, Cole en Español (Cole in Spanish), Mexico 1959, and More Cole 1962. The latter it's said to have been recorded in Portuguese as well, in Brazil. Some of the most remembered songs of those three disks: Aquellos ojos verdes (Those green eyes), El Bodeguero (The Grocer), Noche de Ronda (Night of Round) of Agustin Lara, Perfidia Cachito (Treachery Cachito), Maria Elena (Yours is my heart), Ansiedad (Anxiety).

Nat King Cole left a huge musical print in Tropicana, Cuba left to Nat King Cole the prestige of winning in the most musical country of America. This success allowed him to open the road for other black singers from the United States in other scenarios.

Source: Cubasi
---
Related News
---