Center for Sustainable Development of Tourism in Ciego de Ávila
Submitted by: admin

02 / 26 / 2010
---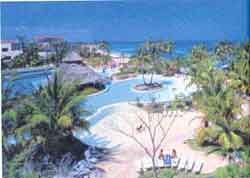 The Center for Sustainable Development of Tourism was created at the Hotel and Catering Trade School of Ciego de Ávila with the objective of preserving marine and terrestrial biodiversity in areas of tourist activities located north of the provinces of Matanzas, Villa Clara, Sancti Spíritus y Ciego de Ávila, ascribed to the UNDP/GEF Sabana-Camagüey.
The newly-created institution is devoted to research work, monitoring and environmental impact assessment of tourist development in the ecosystems, as well as the promotion of environmental education and the sustainable use of natural resources, according to the economic, political, social and environmental characteristics of the Cuban Archipelago.
Sponsored by UNDP, the Ministry of Tourism and the Ministry of Science, Technology and Environment, the center will also foster environmental culture among the people in general and especially among the tourism workers and the leaders of organizations related to the tourist sector. The idea is to keep the tourist industry as the main source of income without damaging the natural surroundings.
As explained by Jesús Pereira Ballate, head coordinator of the Center for Sustainable Development of Tourism, among the activities planned for this year there will be integration and biodiversity conservation workshops, upgrading in practical actions to protect the environment, researches on sustainable tourism and the elaboration of a strategic methodology for impact assessment focused on landscapes, according to the characteristics of every tourist destination.
The plan also includes work sessions on ecosystem intervention and rehabilitation, the best practices of ecotourism, the use of publicity to introduce the ecotourism package to the client and the elaboration of adequate strategies to use the endemic vegetation of the areas close to tourist facilities.
In March, a meeting will be held with specialists from the Ministry of Science, the Ministry of Tourism and organizations related to the Sabana-Camagüey Project. The objective of the meeting is to assess the environmental protection activities carried out in every province during the first three months of the year and device an operational plan for the next period.
Source: www.invasor.cu/
---
Related News
---