Record rainfall for February in Central Cuba
Submitted by: admin

02 / 25 / 2010
---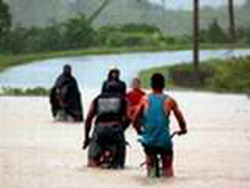 After several months of severe drought in the central province of Ciego de Avila, the rains of the last hours set a record for February in this territory, registering 118.5 mm.     
The figure, marked by rain gauges in just 14 hours, representing 411 percent of the average for the second month of the year, said Silvia Hernandez, Water Resources Specialist.
She added that more than two dozen localities exceeded hundred millimeters of rain, including Guayacanes (262 mm), Mamanantuabo and Majagua (251).
The heavy downpours came at a time, when out of the 15 hydrogeological sectors that Ciego de Avila has, five are in the alarm phase and four in a drought alert similar to the years 2004-2005.
The rain deficit has caused natural dams and water reservoirs are at half filling capacity and that the two bulky groundwater basins -ranked among the largest in Cuba-recorded levels below the historical average.
For the depletion of wells and other water sources, farmers have moved thousands of heads of cattle to coastal areas to improve their diets, while some dairies depend on water pipes.
The main crops benefited from these rains are those of banana, citrus, fruits, sweet potatoes, pumpkins, vegetables, sugar cane and pasture, said Rolando Macias, deputy representative of the Agriculture Ministry in the province.
However, the rainfall paralyzed the harvesting of potatoes, one of the most productive areas of the country in that line and it could damage the tomato harvest, said Macias.
Source: ACN
---
Related News
---