Alternatives in Times of Drought
Submitted by: admin

02 / 23 / 2010
---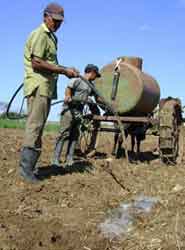 Sowing in spite the prolonged water shortage.
The silhouettes of men and women sowing manioc and other crops are coming come to be an everyday element of the countryside in the province of Las Tunas.
These farmers show up early in the morning to sow and irrigate the land.
Sowing by using a water casks to irrigate has become a practice here, an alternative that farmers and state producers had applied in the highlands of Jobabo, Las Tunas, for years, in an effort to cope with the difficult weather conditions like drought and make food available.
For Las Tunas, planting using this method is strategic and virtually forced by the circumstances, considering that the rain pattern in this province is the lowest across the island and that only 10 percent of all agricultural areas in this province benefit from regular irrigation.
The hard work of men and women here has been a key factor for the province to have today 96 hectares planted with manioc, which they plan to increase to more than 286, according to the Las Tunas Ministry of Agriculture delegate, Engineer Alexis Velázquez.
Although sowing by using water casks doesn't assure high-yield productions, specialists and producers see it at least as a way of alleviating the food situation.
The use of animals, nearby wells and other water sources, as well as organic matter in this farming method additionally benefits soils and the environment.
Source: www.periodico26.cu
---
Related News
---