Trial against Terrorist Luis Posada Carriles Postponed Once More
Submitted by: admin

02 / 21 / 2010
---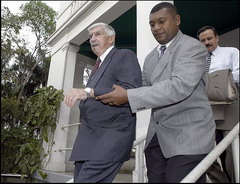 The decision of judge Kathleen Cardone of postponing once again the trial against terrorist Luis Posada Carriles and to set May 20 as the day for the hearing where the date will be determined has been described as the height of arrogance.
Postponed three times, the trial had been scheduled for March 1st.
In an article published on Saturday by Granma newspaper, journalist Jean-Guy Allard emphasizes that Cardone selected the same day neo-colonialism was established in Cuba in 1902.
For the intellectual of Canadian origin, this is another shameful expression of imperial arrogance, since, in 2004, George W. Bush had already chosen May 20 to announce his sinister plan of annexation.
Jean-Guy Allard explains that the terrorist's defense lawyers want to justify Posada's crimes based on the fact that he was following orders from the Central Intelligence Agency (CIA), while the Attorney General's office affirms that the reference to these links is not pertinent to the study of the 11 charges presented, which means a chain of time-wasting procedures during which the criminal enjoys freedom.
That's how justice works in the nation that keeps The Five in jail since 1998 for monitoring the activities of those supporting Posada, a terrorist, a torturer and an assassin, adds Allard.
Rene Gonzalez, Antonio Guerrero, Fernando Gonzalez, Gerardo Hernandez and Ramon Labañino remain in prison in the United States, condemned to harsh sentences for fighting terrorism.
A report issued by Notimex refers to the link of the notorious terrorist with the explosion of bombs at tourist centers in Havana in 1997, one of which caused the death of young Italian Fabio Di Celmo.
Another version, by the Spanish EFE news agency, adds that the District Attorney's Office has presented as evidence the interview published by The New York Times in 1998, in which Posada admitted his participation in the terrorist acts that had occurred the previous year in the Cuban capital.
Source: ACN
---
Related News
---