Cohiba Cigars in the Spotlight of Next Habano Festival
Submitted by: admin

02 / 20 / 2010
---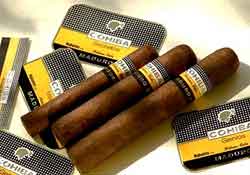 Cigar shapes of the most famous Cuban cigar brand known as Cohiba will be honored and tasted by cigar lovers from 60 countries around the world during the upcoming 12th Habano Festival, scheduled to take place from February 22nd through the 26th in Havana.
Cohiba is considered one most prestigious brands in the world of Premium cigars (hand-rolled). The brand was launched in 1966 and for years these cigars were reserved as presents for government personalities who visited Cuba.
Tobacco leaves collected to make Cohibas are carefully selected from the best five plantations in the famous localities of San Juan y Martinez, and San Luis, in the region of Vuelta Abajo, located in western province of Pinar del Rio.
The Cohiba is the only Habano brand whose production takes a second fermentation of two of the three kinds of leaves. This process provides the aroma and taste that distinguish this cigar brand.
In late 2009, the Cuba-Tabaco enterprise, which is of part of Habanos S.A. Cuban-Spanish association, won a litigation against the U.S. General Cigar firm which was illegally marketing the brand Cohiba in the United States.
The decision, which was issued last December 14th by a federal judge, resolved a 12-year litigation by prohibiting General Cigar from using the Cuban brand in the United States.
The sale of Cuban cigars by the end of 2009 significantly improved following a very complex period of the previous six months, according to Habanos company executives.
Participants at the upcoming Festival will be able to check out the new cigar shapes that will soon be launched on the foreign market by Habano Company. They will also take a first-hand look at the secrets of the cigar rolling tradition.
The Festival will hold traditional activities including visits to cigar factories in Havana, a commercial fair, workshops, cigar tasting sessions, the Sommelier Contest, a key lecture on cigar rolling and tours of famous tobacco plantations in western Pinar del Rio province.
On February 22nd, the inauguration will include the launching by Habanos of its cigars for this year, plus the nominations to the Habano Prize of the year, followed by a concert Chucho Valdes.
The closing ceremony on February 26th will include the traditional auction of exclusive humidors and dinner. Proceeds from the auction will be donated to boost Cuban health care programs.
Last year's Habano Festival was attended by over 1000 guests from 60 countries. More than 500 exhibitors from 30 countries have participated each year, according to the festival's organizing committee.
During the Festival, entrepreneurs, producers and business people in the tobacco sector will exhibit equipment related to the tobacco industry, while artists and craftsmen will display their art works, which include paintings, crafts, bibliographies, and products for smokers.
Source: RHC
---
Related News
---