Compilation of Jose Marti Poems Published in Mexico
Submitted by: admin

02 / 08 / 2010
---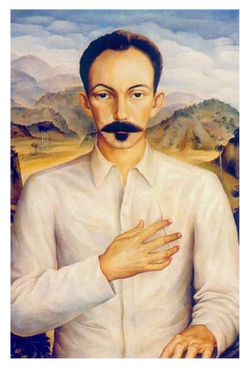 Poems written in Mexico by Cuban National Hero Jose Marti were compiled in a book published in that country by Mexican professor Alfonso Herrera Franyutti.
The book was entitled "Sin Amores, José Martíen Mexico" and it was edited by the University of Guadalajara and the Intercultural University of Chiapa, together with the Jose Marti Studies Center of Cuba, reported Prensa Latina.
"We can not forget that he left in Mexico traces of his youthful love for life,"said Herrera Franyuttim, who is an expert on the work of the Cuban Apostle, during the presentation of the book.
A report posted on the website of the Culture Department of Mexico City notes that the volume includes 30 poems written by Marti in the period from 1875 to 1876, plus another four written in 1894, on his last trip to Mexico.
The author of the book added that he entitled the book: "Sin amores" ("Without Loves") because three of the poems Jose Marti wrote in Mexico had that title.
In 1875, Marti arrived in Mexico to meet up with his family. He was 22 at that moment and he wrote poems typical of his youth and of his first stage as a writer.
Born in Havana on January 28, 1853, and killed in combat on May 19, 1895, Jose Marti is considered the most universal of all Cubans and one of the leading representatives of the pro-independence and anti-imperialist spirit of the Cuban people.
Source: ACN
---
Related News
---