Cuban Restorer Receives Award
Submitted by: admin

02 / 08 / 2010
---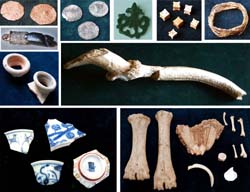 Cuban restoration master Elpidio Sed received the Fulgencio Arambula Alarife Public Architect Prize, established by the Historian's Office in Camaguey city to acknowledge the work of persons or institutions standing out for their contribution to the safeguarding and enhancing of the historical urban areas in their cities.
Elpidio, 81 years of age and in the prime of his faculties, is a professor at the Francisco Sánchez Trade School, from where he irradiates his mastery in the work with plaster to contribute, along with his students, to the restoration of emblematic buildings in his city, like hotels, churches, culture centers and, recently, the Cultural Anthropology Center.
The Prize was presented by José Rodríguez, director of the Historian's Office, during the closing ceremony of the 4th National Symposium on Challenges for City Management, which gathered Cuban and foreign experts for two days of fruitful exchanges, which had the need of preserving heritage cities as a common denominator.
A moment of special interest for participants was the presentation of the 9th volume of the City Chronicles, the fruit of the efforts of Martha Hurtado to collect, year after year, the historical memory of Camaguey and the life of its people, a commendable task also promoted by the Historian's Office.
At the end of the event, Rodriguez made the official announcement of the 5th edition of the Symposium that will be held in 2011, an occasion in which the fulfillment of recommendations to improve the Management Plan for the city's historical area, included on the list of World Heritage Sites, will be evaluated.
Source: www.granma.co.cu
---
Related News
---