Spain supports genetic research to prevent illegal Haitian Children Traffic
Submitted by: admin

02 / 02 / 2010
---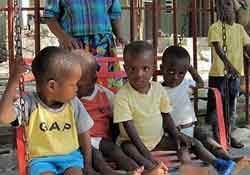 To stop the illegal traffic of Haitian children, Spanish experts will analyze 5,000 genetic samples of Haitian children, who remained defenceless and alone after the devastating earthquake in this Caribbean island.
Spain offered Haiti the DNA-Prokids program of the University of Granada, Spain, through which 200 children in 12 countries were identified since 2006, the start of the program.
Besides trying to avoid the kidnapping of children, the Spanish experts will analyse the samples of children looking for their parents, and whose families denounced their loss after the quake.
Soraya Rodriguez, Cooperation Secretary, said that the initiative will allow experts making 5,000 genetic analyses in a first stage.
Data from the United Nations Children's Fund (UNICEF) said between 800,000 and 1,000 000 children under 18 are victims of illegal traffic every year.
Rodriguez placed in more than 40 million euros the Spanish help destined to Haiti during January.
With the collaboration of the Haitian police places like hospitals, orphanages and camps will be inspected.
The Spanish Cooperation Secretary said she would send a letter to her counterparts from the European Union to tell them about the project.
Source: PL
---
Related News
---