Better Agriculture in Santiago de Cuba province
Submitted by: admin

01 / 28 / 2010
---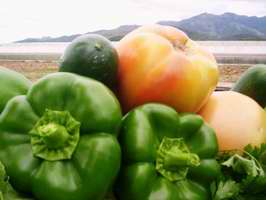 Agriculture in Santiago de Cuba recovers in almost all its areas, even when the results are below needs and of the productive potentials. It highlights the securing of more than 382,000 thousand tons of food, beans, vegetables and fruits.
They went beyond the plan and it meant a growing of the 33 percent, which shows an advance to face demands of the million inhabitants of the province.
The trend towards urban and sub-urban agriculture besides care to other programs has made possible the changes, but this is hardly the beginning of an effort for not having a piece of land without growing.
Hober Hernández, Agriculture delegate in the territory, highlighted that almost twenty-one thousand hectares of food, twelve thousand of vegetables and twenty thousand of beans, numbers that were not reached on previous years, which are a precedent for this year and future periods.
There was an advance in the irrigation at the end of December with two thousand - five hundred and fifty three hectares benefit, four thousand more than those acquired in the 2008, while the protected and semi protected grow houses reached one hundred and forty four thousand.
In poultry and pigs farms there is a gradual recovery taking into account its situation before the Special Period, although always with the explanation that they are sectors that require an appreciable productive bolstering.
Eggs production is on one hundred and twenty two million units, with the objective of having the one hundred and fifty millions that are supplied for local consumption, and on pig meat rise the thirteen million tons, to specially satisfy the demands of the gastronomic sector.
On the current coffee harvest, nearly one million five hundred thousand cans was picked, these figures were not reached in years, but there are some improvements in the forest and the ranching activity for the time being.
Beekeeping, cocoa are still below needs but the Achilles hill in the sector is still the commercialization.
Dozens of markets have been opened and with great demand, the products agreed with farmers are increasing but there is a lack of better transportation means to link farms with the market.
More than 75 thousand workers belong to the agricultural sector in 29 companies and around three hundred cooperatives.
Source: Sierra Maestra
---
Related News
---