April Publishing House in Havana Fair
Submitted by: admin

01 / 27 / 2010
---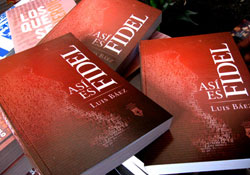 The second volume of "Así es Fidel" will be one of the main proposals of the April Publishing House in the International Book Fair Cuba 2010, which will begin next February 11.
Cuban journalist Luis Báez, has done new interviews to some political figures and some cultural and sports personalities, with anecdotes and testimonies about the leader of the Cuban Revolution.
The specialist in promotion of the editorial stamp, Irena Gonzalez, said to Prensa Latina that something new will be two biographies of the university student leader Julio Antonio Mella, one of them entitled "Subiendo como un sol la escalinata", by Ernesto Alvarez.
From the collection "Conociendo a...", dedicated to bring the youngest closer to the history of the Cuban patriots, it will be sale a case of four small books about the General Major Antonio Maceo and the independence Cuban national hero Jose Marti,
as well as the Majors Ernesto Che Guevara and Camilo Cienfuegos.
Another important historic them is Carta a los jóvenes, a compilation of the letters from Jose Marti dedicated to some near friends.
More than 70 titles will be in circulation in the fair, more than 30 of them are children's and young's literature, added the specialist.
To Russia, honoured guest country is dedicated among other texts, the illustrated monograph Russia, a rapprochement to the culture, origin and traditions of this European nation, by Irene Hernández.
Dedicated to Reinaldo Gonzalez and Maria del Carmen Barcia, both National Literature and Social Science Prices 2003 respectively, the fair will travel around the Island, after concluding its stage in Havana.
Source: Prensa Latina
---
Related News
---