Mother and child infected with H1N1 influenza saved in Camaguey
Submitted by: admin

01 / 22 / 2010
---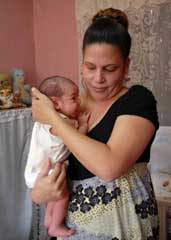 Misleydis Nápoles Santiesteban deeply thanks the birth of her son, Javier, to the Public Health System in the Cuban province of Camaguey, after being treated, at 35 weeks pregnant, for falling ill with the A (H1N1) influenza pandemic.
Nápoles Santiesteban, who teaches Geography in the Salvador García Agüero Workers-and-Farmers Faculty, in the city of Camaguey, was hospitalized for 10 days in the intensive care unit of Manuel Ascunce Domenech University Hospital, after having symptoms such as apnoea, headache and malaise.
"I felt grief-stricken, but on having come there, the medical care of the doctors and nurses was excellent. As a Cuban woman, I feel proud of my country and grateful for the political will of our system. Because of that I am here alive and can hold my baby", stated Misleydis.
The 35-year-old woman also expressed the happiness of having his child safe and sound in her arms, "I haven't experienced this before, and this is a peerless feeling".
Once again at the school, Misleydis explains that among her challenges today are conveying which are the measures to prevent this virus, the behaviours and actions that should be taken in order to raise the awareness as to face illnesses such as this one.
Source: www.cadenagramonte.cu/
---
Related News
---