Architectural gem is a symbol of Manzanillo city
Submitted by: admin

01 / 19 / 2010
---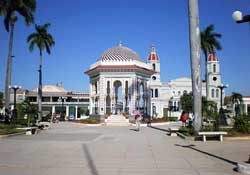 Located in the heart of Manzanillo, the pergola that distinguishes and symbolizes that city of Granma province will turn 86 years next June 24.
That architectural gem is located in the central part of the Carlos Manuel de Céspedes Park, the most important in the town, in a sort of quadrant formed by the main streets of the also known as Pearl of Guacanayabo.
About its origins, historians talk about a collect among merchants and industrialists in the early 1920s to invite the then mayor to a banquet and gifts due to his return from a trip to Havana. He himself suggested that the said funds were destined to a public construction to embellish the city.
The most widespread version about the winner of the contest summoned for the purpose refers to architect Carlos Segrera, designer of emblematic works, among them the Emilio Bacardí Museum, in Santiago de Cuba.
Another investigation designates José Martín del Castillo, a very little known architect from Granada, Spain, as the author of the project, thus explaining the Moorish air of the construction.
The work is surrounded by tropical vegetation. Its hexagonal base is located over one meter from the ground and exhibits beautiful mosaics and colonnades of difficult arabesques, four circular-shaped columns smaller than the rest show Moorish steeples.
Semicircular arches and an ornamented architrave are also part of the framework of the Square, which has an attractive dome covered with a sort of enamelled scales and ended by three little spheres that resemble a spearhead.
The legend around the Square is inspired on one located in the "Courtyard of Lions of the Alhambra Palace, emporium that recalls the eight centuries of Moorish dominance in the Iberian Peninsula.
Since its opening, on June 24, 1924, it has been ideal scenario for open-air concerts of the Municipal Band, tradition that survives in Manzanillo.
Historians say that poet Manuel Navarro Luna, born in Jovellanos, Matanzas, but settled in Manzanillo, in his book "Siluetas Aldeanas" put into the mouth of his character Mongo Paneque –half-jokingly, half serious,–-the following phrase regarding the place: "After you have contemplated it, you'll have nothing left to see on earth".
Worshiped by the people from that eastern city and admired by its many visitors, the Gazebo stands out as a singular architectural gem, one of those we should always preserve.
Source: Can and Cubasí
---
Related News
---