UN Secretary General Ban Ki-Moon in Haiti
Submitted by: admin

01 / 18 / 2010
---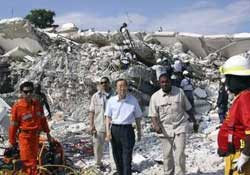 UN Secretary General Ban Ki-Moon travelled to Haiti on Sunday to boost help tasks and reinforce international aid coordination after a powerful tremor devastated that Caribbean country on Tuesday.
Now, the main issue for the top official of the world organization is to save as many lives as possible, distribute humanitarian aid among victims, and coordinate the increasing assistance sent from everywhere.
The UN has confirmed the death of three of the highest officials of the UN Mission in Haiti (MINUSTAH), during the 7.3-degree earthquake.
At the moment of the telluric movement, the officials were inside the MINUSTAH headquarters in Port-au-Prince, at the so-called Christopher Hotel, a building that collapsed totally.
The MINUSTAH is comprised of about 9,000 soldiers, officers and civilians from Argentina, Bolivia, Brazil, Chile, Canada, Colombia, Ecuador, El Salvador, Spain, United States, Peru, France, Guatemala, Paraguay, Russia and Uruguay, among other countries.
According to the working agenda of that 15-member entity, the UN Security Council will analyze the Haitian catastrophe on Monday. It is expected that Ban Ki-Moon gives a first-hand report after returning from Haiti.
Source: PL
---
Related News
---