Las Tunas's Sanlope Publishing House Offers Valuable Cultural Contribution
Submitted by: admin

01 / 17 / 2010
---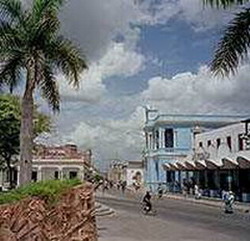 The publication of about 19, 200 books during 2009, by the Sanlope Publishing House, constitutes a valuable contribution of Las Tunas province to the culture in Cuba.
Elaine Gonzalez Urgelles, Director of the Book and Literature Center in Las Tunas, told Tiempo21 that the texts include several genres such as poetry, short story, report, essay, novel and investigation, as a whole there are 26 printed titles in the period.
Among the books marketed by this cultural entity are El círculo de los infieles, by Alberto Garrido, Epítome a las poesías de Juan Cristóbal Nápoles Fajardo, by Carlos Tamayo, La cuarta Palabra, by Lucy Maestre, Territorio de la Décima, by Renael González, and El comelápiz del rincón, by Martha Rosa Fernández, among others.
Since Sanlope's foundation 1991, it has printed more than 300 titles, with productions mainly dedicated to the creation of historical and socio-cultural investigations, books on family orientation and scientific knowledge, as well as on literature for children.
Books such as La leve gracia de los desnudos, by Alberto Garrido, Los cuervos y El amo de las tumbas, by the already deceased novelist Guillermo Vidal, Los epigramas malditos by Carlos Esquivel, figure among the texts published by Sanlope since its creation.
Sanlope was the alias used by the writer Manuel Napoles Fajardo, brother of Juan Cristóbal Napoles Fajardo, El Cucalambé, author of Flores del alma, first book published in Las Tunas, in the 19th century.
Source: www.tiempo21.islagrande.cu
---
Related News
---