The National Archive to celebrate its 170th birthday
Submitted by: admin

01 / 16 / 2010
---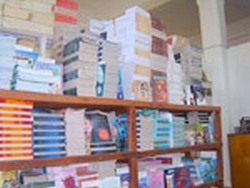 The National Archive from the Republic of Cuba invites the people and organizations willing to take part on the celebrations currently undertaking these days for the 170th anniversary, to be next January 28.
The planned activities include the exhibition Viviendo en la Memoria, related with the work of the institution and the celebration of the Open Door Day in tribute to the Day of Cuban Science on  January 15 in the seat of the institution, found in Compostela 906, on the corner of San Isidro, Old Havana.
On January 28, at 9:00 o'clock local time, there will be a peregrination to the José Martí Home Birth Museum and at 19:00 o'clock, local time there will be in the Archive the Solemn Assembly of the Council of the Old Havana Municipal  Administration, to celebrate the birthday of the institution and the 157th anniversary of the birth of the National Hero José Martí.
According to the web page from the National Archive (www.arnac.cu), this was the fifth of these institutions founded in America, on January 28, 1840 under the name of General Archive of the Royal State.
To our days, they have brought together in their funds the documents from the successive colonial and neo-colonial administrations and some from the revolutionary period; those documents belonging to important personalities from culture and politics and those created by notaries, consultation organizations, societies, companies, institutions, museums and universities.
Among the most interesting ones are those who describe the anti-colonial war efforts, such as the war archive from General Carlos Roloff, the Government fund of the 1895 Revolution, the documents from the Cuban Revolutionary Party, the Documents Collection on Political Business complied by the National Archive, which groups together themes such as corsairs, pirates, seditious movements, black uprising, government resolutions and files on US intervention, among others.
Source: Source: Radio Metropolitana and Cubarte
---
Related News
---