Gourriel and Despaigne, face to face
Submitted by: admin

01 / 12 / 2010
---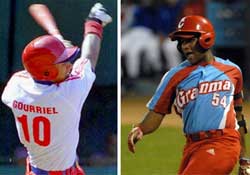 Sancti Spiritus visits Granma at Wilfredo Pagés stadium today. It means that Yuliesky Gourriel and Alfredo Despaigne will be face to face in a match that could wake them up offensively speaking.
The two best hitters in the tournament, the biggest sluggers of the season, the leaders in RBI, began the year with their bats frozen, so a game between their teams always increases the interest in fans because it can close the gap or make it wider.
So far, Gourriel scored more runs (50-40) but Despaigne has hit more hits (75-69) and most doubles (22-8), but Gourriel is ahead in homers (20-18), and he collects a total of 141 bases, seven fewer than Despaigne.
Yuliesky Gourriel leads the RBIs with 58, three more than Despaigne, and Yuliesky has driven in the tying run or the lead 17 times, but his slugging percentage is lower (.723 to .747).
The Wilfredo Pagés stadium and the possibility to emulate face to face can add a further incentive to the rivalry between them, cooled off in January, a month in which both have hit a home run and have few RBIs.
Gourriel, however, has the incentive that his team in first place in the Western division, with a wide lead of six games on Industriales and Pinar del Rio.
Sancti Spiritus has won 33 games out of 52 played so far, while Granma has only won 23 games.
The motivation to see his team in fight for the post season can help Gourriel, but Despaigne could also benefit from his team status of nearly eliminated.
The match Sancti Spiritus-Granma is not the only interesting game today. The current champion Habana will face the top winner Guantánamo at Nelson Fernandez stadium, a match that could be repeated in the final.
Source: Cubasí
---
Related News
---