Fresh water fishing catch at dams beyond the plan
Submitted by: admin

01 / 10 / 2010
---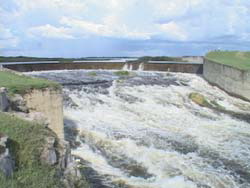 Initiatives and sustained efforts by those who work in the  aquaculture sector in Camaguey made possible that, by the end 2009, the province could reach the first place for its levels of catch, which overstepped 5 000 tons of fish.
Ernesto Veloz, who runs PESCACAM Fishing Company in Camagüey, emphasized the creativeness of his workers, who allowed to face difficulties concerning fishing-tackles and other resources, since networks were rebuilt and  fish traps and boats were repaired in the dams, a fact that eased a growth in the catch of 1 200 tons.
In the brotherly contests, which each year is made in Cuba saluting July 26th that marked the beginning of the Revolution struggles, fishermen of aquaculture in Camaguey produced the greatest amount of young fish in Cuba almost 45 millions, saving almost one million dollars as a result of imports replacement, together to another record in the exports to Central America.
Source:  Radio Cadena Agramonte
---
Related News
---