Artistic project for Down Syndrome children widens in Pinar del Rio
Submitted by: admin

01 / 06 / 2010
---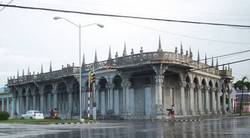 The artistic project Con amor y esperanza (With love and hope) aimed at teaching engraving techniques to Cuban children with Down syndrome, widens today to handicraft workshops that count on the participation of the parents as well.
Created a decade ago in Pinar del Rio, the westernmost province of the island, the initiative benefits some 20 students with special educative needs, who are capable to create art works full of colours using paintbrushes and presses.
The program have made possible that talented and original people became artists, affirms painter Jesús Carrete, creator of the project.
Human figures, the rooster that awakes the neighbourhood, landscapes and story characters are shown in the engravings of these young talents, who have presented over 30 collective exhibits, especially in international halls in Spain, Germany and
Mexico.
Now, he adds, we are venturing in several variants like knitting and we are about to work pottery.
Paper and carton are other materials used to make objects with a distinctive seal, confirmed Coralina Hernández, coordinator of the project.
Another novelty is the inclusion of relatives, especially the parents in order to continue to practice at home.
"My daughter Lianna, who was born with the Down syndrome, inspired me to promote this labour in the school centre where she studies; at first the goal was to motivate some teenagers for the to feel useful and happy both at home and at school", the
teacher recalls.
Carrete explains that the first drawings showed the hidden genius of different kids, then the ink moulds were put on the press and the engravings emerged, small but colourful showing the joy they always have.
Ten years later, the results surpass the expectations, since the creation process allowed to raise the self-esteem of the 23 members of the group, and all of them have improved their communication abilities and the possibilities to social integration.
Source: PL
---
Related News
---