Hemingway and his legacy in Cuba
Submitted by: admin

01 / 05 / 2010
---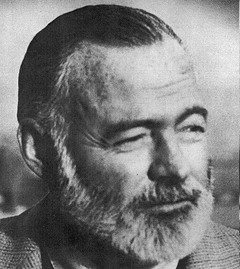 Ernest Hemingway, great admirer of Cuba's virtues, lasts in the memory of the many people who followed in Cuba his literary creation and his journeys around the world, as well as the places that sheltered him and gave him joy, among the main spots is found Vigia Farmhouse, Ambos Mundos Hotel or El Floridita restaurant, these last ones located to the Historical Centre of Havana City.
La Vigia Farmhouse, in San Francisco de Paula, located in the outskirts of Havana was for 21 years the residence in Cuba of the North American writer. It was inaugurated as a museum on July 21, 1962 date in which Hemingway would turn 63 years, the house becomes the first entity created worldwide to showcase life and work of the prestigious intellectual.
To contribute to the preservation of his legacy that cultural institution together with the Library John F. Kennedy, of the United States worked together in the digitization of some of the documents of the author of "Farewell to Arms". Initiative to which also joined the XII Colloquy Ernest Hemingway, with the participation of specialists from Cuba, North America, and other nations, as one more way of honouring his memory.
This was, undoubtedly, one of the outcomes of the work in 2009 of the Staff of Cultural Patrimony that seeks to satisfy the spiritual needs born in the most autochthonous national roots of Cuban culture.
Organization which develops a deep work aimed at demonstrating that our museums have a voice of their own in the national environment.
Action developed through a wide agenda conceived for the intelligent recreation without denying the museum art concepts rooted in the popular wealth.
This knowledge considers that the museum is a permanent institution dedicated to the care and exhibition of collections of objects that have a cultural or scientific nature with study, education, and enjoyment purposes.
For some time now Cuba has been broadening its institutional limits for the interests of communities and their leading role in the museum work with a public aim, to become a tool of social and educational development.
Source: Cubasí
---
Related News
---