Pinar del Río doctors offer their service worldwide
Submitted by: admin

12 / 31 / 2009
---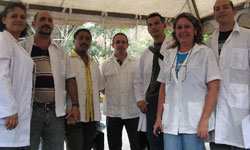 Over 3 300 health care workers of Pinar del Rio are currently rendering service in some 49 nations of Latin America, Asia and Africa, helping the most isolated and poor people, said Juan Gabriel Camejo, official of the Collaboration department in Vueltabajo.
Away from relatives and friends, the Cuba internationalists will celebrate the New Year and the triumph of the Revolution with several activities, always extolling the values of the Cuban nation.
Scientific and educative events, sport competitions, cultural festivals, as well as the traditional dinner, will be part of the celebrations of this men and women hat inspired in the internationalist example of Che Guevara, take their will and knowledge to other places in the world.
Venezuela, Guatemala, Honduras, Bolivia, Equatorial Guinea, Panama, Ecuador, and South Africa are some of the countries where the doctors of Pinar del Rio fulfil their mission.
Many have been the results achieved by the collaborators of this province, especially in the Bolivarian Republic of Venezuela and in Bolivia accomplishing tasks related to the Miracle Operation, handicapped people, among others.
The officials stressed that the specialists inserted in doctor's offices, give also epidemiologic and hygiene services.
Source: www.guerrillero.cu
---
Related News
---