Cuba strengthens houses to face hurricanes
Submitted by: admin

12 / 31 / 2009
---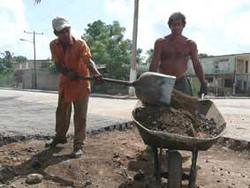 Frequently hit hurricanes, the inhabitants of Pinar del Rio are constructing more resistant homes to face these atmospheric phenomena.
The replacement of light roofs with more lasting ones is an indispensable alternative to palliate the effects of the hurricanes, stated the territorial housing director Pablo Veliz.
Trimax procedure (polymer covered by metallic mesh and concrete) is one of the variants used in this western territory after two hurricanes in 2008.
Ever since that date, he added, over half a thousand families of Pinar del Rio have been benefited with this building modality since it is easy to mount and fast to execute, and also offers guarantees to resist the strong winds of tropical events.
Veliz made sure that 51 percent of the houses to be built in 2010 will have a solid roof in order to resist wind gusts.
Gustav and Ike, the most recent hurricanes, damaged 97 thousand homes in this region, and more than half of them have been rebuilt already.
In rural areas, the fell trees are used in repair and construction works.
That experience known as Mambi Project, have become a valuable option to restore the houses in the countryside, stressed Veliz.
Made of palm trees and other timber species, the typical farmer constructions have a zinc roof and a concrete bathroom, where the locals could protect part of their assets before the threat of a hurricane.
The Project, that retakes traditions of Cuban countrysides, aspires to win the World Habitat Award granted every year by the United Nations.
Source: www.guerrillero.cu
---
Related News
---