Public health continues improving at Camaguey province
Submitted by: admin

12 / 30 / 2009
---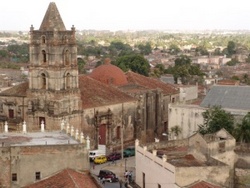 After a year of work, Camaguey public health network exhibits many achievements and faces no few challenges.
The shortages of some resources owing to the complicated international economic situation did not crack the will of the health personnel in this Cuban central province, which is compromised in pushing the medical care program forward, offering
benefits to the whole community.
The recovery of the facilities severely harmed by the hurricanes that hit the island in 2008, marked the beginning of a colossal toil which was characterized by the inauguration of new services, with the support of all the workers of the sector
and the self-training of its professional staff.
The consolidation of the Mother-Child Attention Program was once again demonstrated after having reached an infant mortality rate of 4.1 deaths per 1000 live births. Nevertheless, the specialists who are in charge of this important task of the health system in Camaguey are willing to strengthen their attention to the pregnant women with chronic ailments, to the low birth weight newborn babies, and the proper guidance to families in order to avoid teenage pregnancy.
The involvement of patients with mental disorders to daily tasks, and the treatment of neurological pathologies, shows how such has been done so far in favour of those who need a specialized check-up.
The current year meant a stride forward in the treatment of the acute renal failure, with the inauguration of new services of haemodialysis and a major number of kidneys transplantations.
Services of cardiology, x-rays, rehabilitation, ultrasound diagnosis, endoscopies and cardiovascular urgencies were gradually incorporated, for which the medical staff took training courses.
Likewise, the work in the Intensive Care Units reached greatest proportions, particularly in rural municipalities, which did not provide these services before for lacking surgical hospitals, thousands of lives have been saved thanks to these new
services.
On the other hand, the medical staff from Camaguey took a message of encouragement and of hope to Africa, Asia and Latin America. Basically in diverse rural communities in the Latin American region, where the support of these Cuban collaborators
was conspicuous in providing health and sanitary education, as part of the Bolivarian Alliance for the Americas agreements  signed between Cuba and Venezuela.
Camagüey is Cuba's second province after Havana; with the highest index of diabetic patients, hence the scientific community concentrates their efforts in developing other therapeutic variants, as injecting mother cells in persons with vascular afflictions and the application of Hebertprot P cautery .
The opening of a centre for patient with diabetes, obviously improved the infrastructure of the territory for preventing and treating the illness that today affects nearly 40 thousand persons in this province.
Source: www.cadenagramonte.cu
---
Related News
---