2010 Alejo Carpentier Literary Award given to Cubans
Submitted by: admin

12 / 30 / 2009
---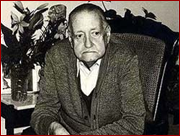 The 2010 Alejo Carpentier Literary Award was granted to Rafael de Aguila, Ernesto Pena and David Leyva by the homonymous Foundation and the Letras Cubanas Publishing House.
De Aguila, author of the short story entitled Del otro lado (On the Other Side), was given the award for his extraordinary artistic and narrative strength, as well as the insight of the writer's work.
Pena won the prize for his novel La Biblia Perdida (The Lost Bible), in which he describes a period of Cuban history rarely referenced in literature.
For his part, Leyva deserved the award for his essay Virgilio Piñera o la libertad de lo grotesco (Virgilio Pinera or the Freedom of the Grotesque), for the use he made of sources, and the transparency of his style and the revolutionary descriptions in the book.
The short story jury was made up by writers Francisco Lopez Sacha, Pedro de Jesús and Daniel García; novels were assessed by  Miguel Mejides, Lourdes González and Ana María Muñoz Bachs; while Reynaldo Gonzalez, Enrique Saínz and Marta Lesmes were in
charge of essays.
The winner of the Nicolas Guillén Poetry Award granted by the National Poet Foundation and Cuban Literature Publishing House was also announced. It went to Omar Perez, for his Crítica de la razón puta (Critique of Bullshit Reason).
The jury comprising of Lina de Feria, Roberto Manzano and Basilia Papastamatíu acknowledged the renovated approach of the book to national and universal issues such as ethics, philosophy, politics and education.
Source: Granma.co.cu
---
Related News
---