Cuban educational program with new goals ahead
Submitted by: admin

12 / 29 / 2009
---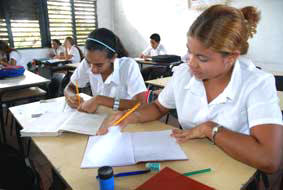 The academic year 2009-2010 started on September first with several expectations due to the changes announced in the entire national teaching system.
    
Some of the changes already retake paths previously experienced, some others promote new paths, and the rest deepen in the established boundaries.

All aimed at raising the quality of education and consolidate a more modern and adjusted teaching to the domestic and world situation.   

Higher will be the demands in the different level, which take for granted the need to study every day. The same should be with the training of teachers.

Learning cannot be only in the hands of students and professors. The family must play its role.   
In the summary meeting of the academic year 2008-2009, Ena Elsa Velasquez Cobiella, Minister of Education, characterized as big challenges the transformations that would be undertaken in the current academic year and she said back then:

"We will keep the same working goals but we will deepen in aspects we haven't achieved. It's a redefinition of strategies, from the deep analysis we have carried out." 

Great challenges will be faced during the entire educational process: the concern with spelling in all subjects with great importance in the first educational cycle of the Primary school, the teaching of History in seventh and eighth grades, the training of professors, the test system to be applied, the training of technicians and qualified workers with greater development of skills for their work, the reopening of the Marxism-Leninism and History department in the Higher Pedagogical Institutes.  
 
The new measures also include the attendance to universities classrooms of high-school students who seek to study Mathematics, Physics, Chemistry, and Biology.
 
Likewise, increasing hours of front-classes in the training of teachers, to have students undergo entrance tests for to those registering in municipal university headquarters.   

Besides, in each municipality of Havana City an urban high school will open which will begin only with the tenth grade, while those of eleventh and twelfth will continue in facilities located in Havana province.

This action will be followed by the rest of the provinces according with the conditions and availability of the teaching staff.

The teacher is the common base of all these changes. He needs the support on behalf of everyone so that students learn more and are trained better, number one objective of our society.  
 
Wages in the educational field will increase, starting this academic year, which will benefit 545 101 workers both teachers and other personnel at a cost of more than 820 million pesos yearly, measure adopted in spite of the complex economic and financial situation the country faces.   

"On acknowledging the teacher, we are praising him; but there are no doubts that the educator must also carry out efforts, to fulfil his task well, he must be deeply human and have an exemplary behaviour not only at school, but everywhere", she said.
Source: Cubasi.cu
---
Related News
---