Cuba is the Isle of Music
Submitted by: admin

12 / 29 / 2009
---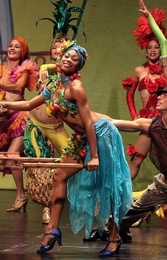 Cuba is a very musical country. All the people on this island and any visitor might notice it quickly because rhythm is in our heart.
No matter if we celebrate a great event or if we are sad, never mind, because, like poetry, every moment can be a source of inspiration for a good music, whether a son or a bolero to feel nostalgia...

I think music is a prolific art expression in Cuba. That is one of the reasons we are known internationally, and every year new groups, and novice talents emerge.

The 2009 was a fruitful year. There is no better way than a musical harmony to celebrate the 50th anniversary of the Cuban Revolution.

Paz sin Fronteras, held in September in Havana, with more than a million spectators at the Revolution Square, and the other 10 million people followed it through the national Television and a whole world just waiting.

Paz sin Fronteras—led by Colombian Juanes, Puerto Rican Olga Tanon and Spanish singer Miguel Bose along with many other internationally renowned musicians— became the first news of the mass media for several days. It was a big event for us as public and for them as artists.

This 2009 has been the year of major anniversaries: EGREM, Cuban record label celebrated its 45th anniversary and Los Van Van, the best orchestra in the country, reached its 40th.

Eso que anda", with testimonials from musicians who now make up Van Van and others who are no longer in the orchestra.

The Cubadisco, dedicated to Puerto Rico this year, awarded the best of the record industry of the island. Meanwhile, Cubademo, debuted as festival and became a viable alternative for young Cuban musicians who need a space to promote themselves.

Omara Portuondo, diva of the Buena Vista Social Club and owner of an incredible musicality, won a Latin Grammy Award this year like her fellow countryman Chucho Valdes. The International Festival JoJazz presented the best new talents in this genre and reaffirmed the event as unique in presenting novice jazz players who then crowned in major international events.

Returning to the shows, the Mexican band Cafe Tacvba chose Havana to celebrate its first two decades in its tour "20 years, 20 cities." Escuelas contra Huracanes, a project promoted by Cuban singer Raúl Paz, showed once again how solidarity and art go hand in hand.

Important French musicians like Yannick Noah and Florent Pagny performed here to support the reconstruction of study centres that were devastated by the hurricanes that passed through the island in 2008.

France's Manu Chao, world citizen with eternal love to Cuba, gave his voice again in a concert at the University of Havana.  
Kool and the Gang was the culmination of presentations in the foreign country.
Famous American guitarist Gary Lucas visited us during the recently concluded 31st International Film Festival of New Latin American Cinema and gave a single performance at the screening of Dracula in its Hispanic version of the 1930s.

Source: Cubasí
---
Related News
---