Musician in Florida city, Camaguey, form a duet
Submitted by: admin

12 / 28 / 2009
---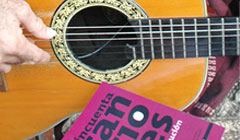 The name Dúo Marfil (Ivory Duo) is probably unfamiliar to many of Camagüey inhabitants though it is getting increasingly popular in nightclubs as well as radio and TV stations in Havana City.
However, if the audience identifies them with former trio Voces de Marfil they will immediately relate them with Florida City, their hometown, where the started their career back in 1989.
During the festivities for Cuban Culinary Day, held in Florida City precisely, both musicians successfully performed and acceded to be interviewed for Adelante Online.
Ifrahim Cruz Cabrera is the guitarist player and director meanwhile Víctor Pérez Cuervo is the leading voice of the, so far, tiny group that already sounds "big" thanks to the use of  keyboards.
-What is the origin of the name Voces de Marfil (Ivory Voices)?
-At the beginning we were an acoustic guitar trio; once we were invited to attend an international trio festival in Guantánamo City but we had no name yet, when we were called to confirm our attendance to the festival the call was it was the mother of one of the members who took the phone and she came out with the name…
-Then in 1998 we changed the format and added keyboards, guitar and voices, we have been working as a duo for nearly a year.
-How do you manage now, being only two members?
-It is a temporary situation since there is a third member, a girl, who is already rehearsing with us to perform as a keyboard player and vocalist. Soon we will be performing in national TV network as well as in Havana's TV and radio stations as scheduled.
-Do you miss Camagüey?
-We are living in the capital but we never lose the link with our province, especially with Florida City, where we performed as guests artists during July 26th celebrations. We will always be willing to perform here, where our families and roots remain.
Source: www.adelante.cu/
---
Related News
---