Cuban journalists have issued a note recalling the case of Cuban Five
Submitted by: admin

12 / 28 / 2009
---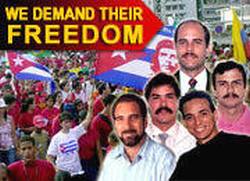 The text denounces the violations committed during the process against the Five, the high court's ruling also reflects their disdain for the Cuban people, who regard these men as heroes.
The calls explains that, in spite of the increasing world demand for justice after the Supreme Court's decision, the US Government has decided to favour the wishes and requests of the anti-Cuba extreme right in Miami.
"Mass media has also been part of this conflict," the note states. It adds that, on one side, there is a powerful system of radio and television aggression against Cuba led by federal and commercial stations as well as counterrevolutionary short wave stations broadcasting from Florida almost 1,955 hours per week through MW, SW, FM, and television with specialized planes and satellites at their disposal as part of a 34-million-dollar budget approved by the US Government for these broadcasts in 2009.
The text points out that even more painful is to watch as the US mainstream media remains silent or indifferent and even as it condemns these five men in spite of the fact that some aspects of the biased trial to which they were submitted would make headlines in prime time programs of the big channels.
"On the other side, so-called alternative media, comprised of thousands of popular networks, community stations, media outlets of social movements, trade unions, progressive governments and in solidarity with Cuba have assumed the cause of the release of the Five as a priority topic," the call affirms.
The letter continues noting that the general reaction of these "small media outlets" to the high court's ruling has been to openly criticize the initial rhetoric of the new US Administration, which so frequently has used the word "change'."
The text recalls that these media outlets will continue along with Cuban journalists, loyal to truth and justice, fighting for the release of these five men.
It concludes saying that the US people have the right to know the truth about the Cuban Five and it urges the US mainstream media to break the silence about the unjust and cruel imprisonment of the Five if they want to make any contribution to the struggle against terrorism.
Source: ACN
---
Related News
---