Cuban Five Given Education Award
Submitted by: admin

12 / 25 / 2009
---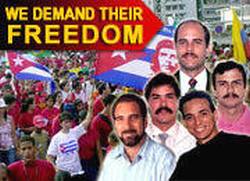 In acknowledgment of their outstanding merits in defence of the sovereignty and the right of our people to self-determination, for being an example for our youth and a model of the noblest human values in the struggle against terrorism, of endless love for their Homeland and the Revolution, and of the admirable resistance of a revolutionary, the Ministry of Higher Education has granted the Cuban Five the Cuban Education Award.
Politburo Member and President of the National Assembly of the People's Power Ricardo Alarcón de Quesada, gave the Five's relatives the award, at a ceremony that paid tribute to Cuban teachers of Higher Education at the José Martí Memorial at the
Revolution Square.
"We are a country of teachers: Varela, Mendive, Luz y Caballero, Martí (... ); our advisers offering their services in different parts of the world (... ); the Cuban Five –René, Gerardo, Ramón, Antonio and Fernando—,examples of worthy teachers,
our university professors, and Fidel, who has been a skilful teacher in the political, social and cultural arenas, the most comprehensive teacher we've ever known," said Politburo Member and Minister of Higher Education Miguel Díaz-Canel.
"We congratulate you because, luckily, you are incurable dreamers, stubborn sculptors of souls, and inveterate believers in the possibility of human improvement," he said.
Admiration, profound respect and infinite love characterized the ceremony where the First and Second Degree Frank País Order, the Jose Tey medal, the Cuban Education Award and the Rafael María de Mendive Award were granted to a numerous representation of teachers.
The ceremony was attended by Jose Ramon Fernandez, Vice-president of the Council of Ministers; Olga Lidia Tapia, Central Committee Secretariat Member; Ena Elsa Velázquez, Minister of Education; and Christian Jimenez, President of the Cuban
Institute of Sports and Recreation (INDER).
Source: www.granma.co.cu
---
Related News
---