Fidel Castro awarded by the Cuban Association of Teachers in Cuba
Submitted by: admin

12 / 24 / 2009
---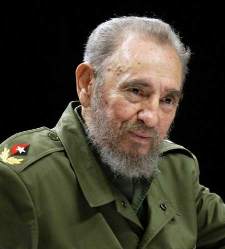 The Association of Teachers of Cuba gave Commander-in-Chief Fidel Castro the Outstanding Teacher of the Twentieth Century Award, for being an exceptional teacher of his people and revolutionaries the world over.
During a ceremony to honour Cuban teachers to celebrate Teacher's Day in Cuba, the President of the association, Lesbia Cánovas, gave the award, with gratitude and love, to the Vice-president of the Council of Ministers Jose Ramon Fernandez, who will hand it over to the leader of the revolution.
At the Mella Theatre in Havana, another 500 teachers received the same award from the hands of young General Comprehensive Teachers (PGI), on behalf of the thousand teachers selected for this first ceremony, which pays fair tribute to lives devoted
to education and to the many contributions made to the Cuban education system.
The Young Communist League (UJC) and students´ organizations gave the "Teacher of Generations" Award to outstanding political, cultural and scientific personalities, headed by Moncada Heroine Melba Hernandez.
The distinguished group was made up by Faure Chomon, Alicia Alonso, Fina Garcia Marruz, the late Cintio Vitier, Rodrigo Alvarez Cambras, Ismael Lozada, Maximo Cabrera, Major General Humberto Torres, and Lidia Turner, Honorary President of the
Cuban Association of Teachers.
The Jose Marti Primary School Students Organization gave the Los Zapaticos de Rosa Award (which takes its title from a poem by Cuba's National Hero Jose Marti) to Jose Ramon Fernandez, and the Dream Healer Award to 50 tutors, instructors and outstanding collaborators who had taken part in the difficult and exiting mission of comprehensively training the youngest generations.
Presiding over the event were Politburo member and Minister of Higher Education Miguel Díaz-Canel; Olga Lidia Tapia, member of the Central Committee's Secretariat; First Secretary of the Party in Havana, Lázara Mercedes López Acea; Minister of
Education Ena Elsa Velázquez, and UJC First Secretary Liudmila Álamo.
Source: ACNnews
---
Related News
---