Aire de Concierto jazz band to release first album
Submitted by: admin

12 / 22 / 2009
---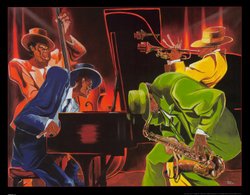 The young Cuban jazz band Aire de Concierto is starting to gain some ground on the national stage as they get ready to release there first album Con Clarinete (Bis Music).
The band, which formed a little over two years ago, is made up of two wind instruments, one string instrument and a drummer.
Last Sunday Aire de Concierto brought their nationwide tour to a close with a concert at the Mella Theater in Havana.
The band brings a refreshingly new look at jazz heavily flavoured with Cuban rhythms including some more obscure genres from the eastern region of the country such as nengón and changui.
As band director Janio Abreu, said, "One of our songs, Para ti, nengón, is about our search for our roots. We are also working on some songs in the mozambique and pilón rhythms, all the time giving the songs our unique treatment and heavily connected to American jazz from the 1930s. We have always tried to break with the conventional since we first got together as a band."
The group breaks its practices into two sessions, one for the wind instruments and another for the guitar, bass and drums. The band is made up of Janio (soprano clarinet and tenor saxophone), Joel Lafont (alto clarinet and soprano clarinet), Miguel Enrique Veliz (acoustic guitar and electric bass) and Ernesto J. Delgado (drums).
Con Clarinete includes 13 songs with original compositions from all members of the band. The CD was recorded at the Eusebio Delfín Studios in Cienfuegos in February, and was produced by Alexis Boch and Emilio Martiní.
Among the songs included on the disc are: Como el elefante, which also has a music video; a version of Capullito de alelí, with arrangements by guitarists Miguel Enrique Veliz; Tumbao con moña, by pianist Alejandro Falcón; and Pájaro lindo a composition written by Ignacio Piñeiro and sung by Fabio Corrieri.
Janio talks about the band's excitement and pure joy of playing, "Our music is happy. Simply put, this is the way we have found to express ourselves freely. When you play a classical music piece, the musicians are very 'tied down' to what the composer wrote. Jazz isn't like this; in jazz improvisation is everything the whole time."
All the musicians in the band are formally trained in the Cuba's world renowned music institutes. An odd phenomenon is that jazz is not formally taught in these schools. Nevertheless, there is a strong movement of young jazz musicians that ends with the country's Jojazz Youth Jazz Festival and Contest every year.
"We are a generation much like the one that preceded us; we really identify with jazz. There are so many good musicians in Cuba playing jazz and they don't have a guide. We just pass CDs around and books. There is not a formal framework, something that would definitely help," says Janio.
The whole band agrees that the country could really benefit from a school of popular music; especially in creating more professional musicians at a young age.
Aire de Concierto's jazz is a fluid creation riveting with the sounds of Cuba. "We want to play music that the public likes while at the same enjoying it ourselves, to feel satisfaction over what we are doing," says Janio.
Aire de Concierto can be seen every first Friday of every month at the  gardens  of Mella Theatre.
Source: www.jrebelde.cubaweb.cu
---
Related News
---