New Members of the Cuban Council of State Elected
Submitted by: admin

12 / 21 / 2009
---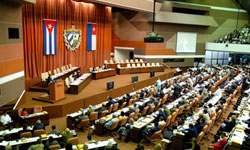 Commander of the Revolution Ramiro Valdes, Minister of Computing and Communications, and Gladys Bejerano, General Comptroller of the Republic, were elected on Sunday as new Vice-presidents of the Council of State.
By direct and secret vote of the deputies to the National Assembly of the People's Power, Marino Murillo, vice-president of the Council of Ministers and Minister of Planning and the Economy; and Luidmila Alamo, first secretary of the Young  Communists' League, were elected as members of the Council of State.
Also elected to fill positions were Isis Diez,  vice-president of the Provincial Administration Council of Las Tunas; Kirenia Diaz, a specialist in validation of Havana's Finlay Institute; and Sergio  Rodriguez, Director of the National Research Institute for Tropical Root Vegetables in Villa Clara.
Previously, debates on Sunday at Havana's Convention Centre during the meeting of the National Assembly of the People's Power revolved around the content of the report on the behaviour of the national budget in 2009 and on the guidelines for the
country's Economic and Social Plan for 2010, the two of them introduced by Murillo.
Another agreement adopted during Sunday's plenary session calls all Cubans to intensify the struggle for the release of the five antiterrorist compatriots unjustly incarcerated in the United States and to demand their immediate release from US President Barack Obama.
The legislators' support of the positions of Cuba, Venezuela and Bolivia at the Summit on Climate Change that recently concluded in Copenhagen against the unpopular agreement imposed by a group of powerful countries on behalf of all nations in
the world, was also ratified.
Source: ACNnews
---
Related News
---