Beaches' ecosystem under protection at the north side of Ciego de Ávila province
Submitted by: admin

12 / 20 / 2009
---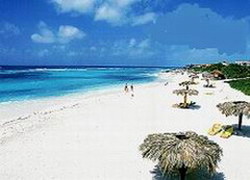 The construction of gangplanks on pivots from the hotels to the beaches is among the actions made in the north keys of Ciego de Ávila to preserve the coastal ecosystem.
The works are guided to mitigate the effects of climatic change on the north coast of the Avilanian territory, where the Jardines del Rey (King's Gardens) tourist resort is located, one of the most visited in Cuba.
Experts of the Coastal Ecosystems Research Centre in Cayo Coco, together with other state organizations, carry out several tasks to protect the environment, as explained by Zúñiga, the director of the centre.
Zúñiga expressed they have been engaged in improving the coastal areas for four years, since the coastline has gone back up to three meters due to sea erosion, iIn some areas.  
That is why - he explained - we mainly focus our attention on the beach sectors. Some have already been recovered  and we also encourage cleaning and adequate sand use."
Zúñiga said that the main task is being made at Pilar Beach in Guillermo Key, where the recovery actions are conducted with sustainable procedures. That beach is considered one of the most beautiful in Cuba.
"In that place the tasks are mainly oriented to preserve the highest dunes in the Insular Caribbean, with 15 meters high, and also vegetation ", Zúñiga pointed out.
"In both islands the paths to the sand dunes were closed, since free access has caused undesirable soil compression, and instead some interpretive paths have been activated to also protect flora", he explained.
These actions integrate a Biodiversity Conservation project sponsored by the United Nations,  implemented in the  Sabana-Camagüey archipelago, to develop sustainable tourism, fishing, agriculture and forestry ", he said.
The tourist development of the region is based on a physical ambience of high ecological and landscape values and, with several beaches of coral origin, showing their singular beauty and excellent conservation state.
Source: PL
---
Related News
---