Endemic species protected at Nuevitas harbour
Submitted by: admin

12 / 20 / 2009
---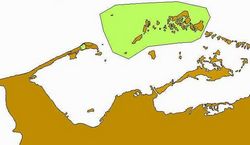 Those who work at Ballenato key and Mangroves in Nuevitas harbour, northern Camaguey, follow two goals which are the protection of the environment and promotion of friendly actions in favour of nature among the community.
As part of the Flora and Fauna Company, this group works in the preservation of the whole natural heritage of this zone, declared a Protected Area because of the species living in this habitat.
Among the main projects underway in Nuevitas harbour is that of the Handling of Flora and Fauna, the observation and protection, environmental education, research, monitoring and management.
The Cuban Rock Iguana (Cyclura nubila nubila) and the Cuban Hutia (Capromys pilorides), endemic species of Cuba are among the species living in the area.
Likewise, birds like the Greater Flamingo (Phoencopterus ruber ruber), and others find shelter in the northern coast of Camaguey province.
Source: www.cadenagramonte.cu/
---
Related News
---