Yuliesky Gourriel, a Cuban outstanding baseball player
Submitted by: admin

12 / 19 / 2009
---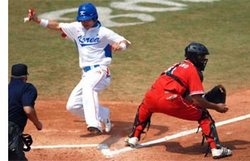 Yuliesky Gourriel has been attracting every Cuban baseball fan. No one remains indifferent to this terrific player. Author of 14 homeruns and 42 runs batted in; Gourriel is breaking news in the National Championship.

Surprisingly, fans on every corner criticize the press for giving him some merits due to his astonishing statistics. However, no record is kept of any complaints regarding Omar Linares, another of our baseball stars who deserved all merits since his very beginning.

Comments on Linares's earned run average (ERA) were also heard in the grandstands but that myth was broken immediately: there was too much evidence to prove it wrong.
Let us just remember his homerun against US in Indianapolis, 1987; his incredible
performance versus San Juan' Senators; his 3 homeruns in the final game at Atlanta's Olympics in 1996, the golden hit in the first game facing Baltimore Orioles and the homer to finally beat Canada in 1999 Winnipeg when Cubans weren't batting at all.

Yuliesky's history will speak for itself and no one will dare to mention 2008 Beijing again. If I were the coach I would also use him to bat against South Korea. He is the most complete Cuban baseball player and we cannot deny that fact.

Let´s convince ourselves of his greatness when considering a baseball player who needs less than 20 appearances to hit a homerun, less than 8 opportunities to hit extra bases, less than 5 to bring his fellows over home plate and less than 4 to
get runs done by scoring or bringing them over.
If that does not make you change your mind, then add the fact that he steals a base in 70% of his attempts and averages 330 for life.

According to our statistics only 2 baseball players gather such qualities in the history of revolutionary baseball: Omar Linares and Yuliesky Gourriel. There is a third hunting them: Alfredo Despaigne, but his stolen bases average does not help him.

In 20 National Seasons Linares hit 404 homeruns (14, 76 as a frequency), shot 785 extra bases (7, 59), brought over 1221 runs (4, 88), scored 2364 (3, 15), stole 246 bases in 341 attempts (72, 14) and averaged 368.
On the other hand, Yuliesky Gourriel can count, so far, on 171 homeruns (18, 36), 416 extra bases (7, 55), 668 runs batted in (4, 70), 1162 scored (3, 12), 98 stolen bases in 128 attempts (76, 56) and a 335 average.

Statistics don't lie. Let's see how far Yuliesky can go and when will he cease to make magic with a bat.

Source: Juventud Rebelde and Escambray.cu
---
Related News
---