Cuban Parliament strengthens and widens relations worldwide
Submitted by: admin

12 / 17 / 2009
---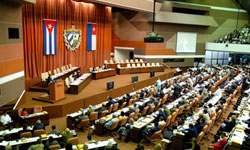 The President of the Foreign Relations Commission of the National Assembly (Parliament), Ramon Pez Ferro, highlighted on Wednesday the expansion and consolidation of the Cuban legislative body's relations with its counterparts around the world.
Speaking at the Palco Hotel in Havana, venue along with the adjacent Convention Centre of the meetings of the 12 permanent commissions of Parliament on Wednesday and Thursday, Pez Ferro announced that 24 Cuban parliamentary delegations, comprised of 33 deputies, visited 22 nations in 2009, "which resulted in a significant expansion of our ties and gave us the opportunity to spread the message regarding the positions of the Cuban Revolution," he said.  
He also referred to a meeting held in Havana earlier this year of three permanent commissions of the Latin American Parliament, which represented an opportunity to exchange ideas and strengthen ties.  
Meanwhile, the celebration of two inter-parliamentary conferences, one with Bolivian deputies in Havana and the other with Panamanian legislators in the Central American country, was described by Pez Ferro as very useful for the consolidation of ties between the Cuban Parliament and its counterparts from Bolivia and Panama.  
After regarding the Inter-Parliamentary Union as an important platform as it is comprised of 154 legislative bodies from all over the world, Pez Ferro recalled that Cuban parliamentarians represented the island in conferences held this year in Ethiopia and Switzerland.  
The meetings of the 12 permanent commissions take place prior to the beginning of the plenary session of the legislative body to be held next Sunday.
Source: ACNnews
---
Related News
---