Plenary of Cuban Parliament Postponed
Submitted by: admin

12 / 16 / 2009
---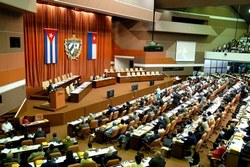 The beginning of the Plenary of the Fourth Regular Session of the Seventh Legislature of the National Assembly of People's Power of Cuba was postponed for December 20.
According to a note of the Parliament that was published by Granma daily on Wednesday, the decision responds to a series of activities the deputies must carry out this week.
The meetings of the Permanent Commissions and other previous meetings remain as scheduled, states the daily.
The deputies of the 12 work permanent commissions of the National Assembly of People's Power will meet on Wednesday.
Many of the issues to be considered by the commissions are summaries of studies, researches, supervisions to activities of its branches and sectors, or revision of the solution level given by organizations and institutions to the analysis and complaints of the voters, underlines Granma.
It adds that the parliamentarians will analyze cardinal issues of the production and services, its quality and efficiency and, the problems that affect the most to fellow citizens.
The presentations of the guideline projects of the Economy Plan and the State Budget Act for 2010 are also scheduled for the end of 2009.
Source: PL
---
Related News
---