Agro-ecological farm and its many tasks in Cuban Agriculture
Submitted by: admin

12 / 15 / 2009
---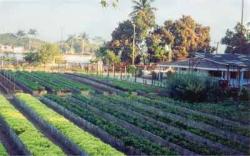 The use of animal traction, worm compost and other kind of manure, living fence-posts, the application of measures to protect the soils and minimal labour, are some of the tasks Agro- ecology includes.
These natural methods of agricultural production can be noticed at the many farms on the island when an appropriate diversification and rotation of growing, seeds preservation, biological control of plagues and diseases as well as other procedures guarantee bountiful and varied harvests.
Such practices are aimed at achieving, with the use of local resources and a least exercise of machineries, a sustainable and productive agriculture.
To understand the meaning of Agro-ecology from the economic point of view, it would be enough to analyze that the use of oxen, manure and bio-pesticides, avoids serious expenses to the country in equipments, fuel, fertilizers, chemical pesticides and other resources.
Even more, agro ecology is also good for nature since it replaced machinery and pesticides, the organic labours do not pollute the environment, since they avoid fuel or lubricant spillage and excess of fertilizers and other chemical products not only damage the ecosystem, but also human health.
These invaluable advantages determine that the Cuban Association of Small Farmers (ANAP), foster in Cuba a project aimed at promoting the use of these procedures in all the farms.
Fortunately, today we can notice the people's awareness about there methods since they are not only more economic than "industrial" agriculture, but also guarantee healthiest fruits for human consumption and mean no harm for the environment.
Therefore, Cuba is in the right path for agricultural activity for the present and for the year to come. .
Source: www.guerrillero.cu/
---
Related News
---