Colonial Santiago de Cuba and its Traditions
Submitted by: admin

12 / 14 / 2009
---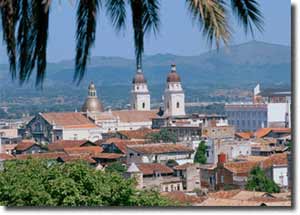 In the first half of the 19 th century, enjoying a bullfighting show was not odd in colonial Santiago de Cuba.
It was rather one of the amusement options for some of its settlers.

In the intersection of Martí and Cristina Avenues (the latter officially named Jesús Menéndez), in the place that was known once as El Campo de la Maloja, the Bullring of Santiago de Cuba rose.

According to some documents and newspaper articles from that time, the building, inaugurated on April 28 th 1849, was constructed thanks to the efforts of a group of illustrious and famous settlers of the Very Noble and Very Loyal Village of Santiago de Cuba.

José María Bravo Portuondo - the Marquess of Las Delicias de Tempú-, Joaquín Pagán López, Ruperto Licea Ledesma, José Niza Palacios, and Julián Bardajós were among those who put in a lot of effort and heart in favour of the building of the bullring, the construction of which cost about 78.000 pesos.

The Bullring welcomed gentlemen only, because it was forbidden for ladies to enjoy a "sun-and-blood show", according to Raúl Ibarra Albuerne, a historian from Santiago; and it specially opened its doors to the unruly Spanish soldiers, who found here a place for giving free rein to their feelings and passions that the Iberian practice awoke in all of them, specially in those who had it as a tradition, apart from seen this ring as an oasis of memories and yearning for the distant native land, the distant Mother Land.

For the bullfighting, diverse matadors were hired. Among those who displayed their talents with the rods in the arena of the bullring of Santiago were José Sánchez Riaño (El Niño), Eusebio Morando, and Juan Gutiérrez (Guarango).
Santiago's Bullring was quite an event at that time, back in history , we may look through its 490 years of foundation, the bullring comes out of the mist of the historical memory to bring us nowadays one of the many scenes of Colonial Santiago.

Source: Sierra Maestra.cu
---
Related News
---