The queen of fruits, the pineapple
Submitted by: admin

12 / 14 / 2009
---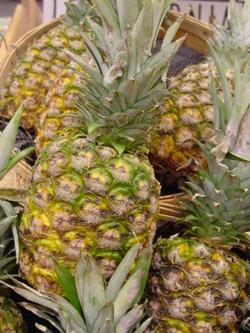 An intense program is being implemented to rescue the pineapple plantations in Ciego de Ávila  province.

Almost without realizing, the queen of fruits banished from the scene. Little by little it was disappearing from its habitat and stayed in some few hectares.
A survey carried out to the heart of which was the only state company of the country dedicated to that crop, revealed the reason for such a statement:

Rachitic pineapple fields full of weeds, lack of watering, almost total absence of fertilization, workers' exodus, non-existence of sewers and overexploited soils.

These mishaps, plus the lack of resources and other organizational spoiled the production.

In 1991 there was a record harvest of 30 231,8 tons and, in 2007 yields were the lowest ever, only 207 tons.
Actually, the queen of fruits didn't die, but was in intensive care due to its serious condition.  

We rotate the soils, plant the areas not used for more than 20 years, and we improve the planting material with seedlings from and with improved genetic material (variety MD-2), which yields are far better than those of the traditional variety planted (Spaniard Red).

"The situation is changing", says Alfonso argues Durán Cobas, in charge of the area which is divided into 13,42 ha nine state farms, each one assisted by four workers.

"The plantation is beautiful, isn't it?! It is as high as my chest. I fertilize the 10 hectares with compost said one of the workers at the farm.
Specialists predict pineapple fruits will weigh more than five pounds. I wish they were right, he says to the reporter".

Source: www.invasor.cu/

---
Related News
---